Eating a well-balanced diet, including variety of foods and vitamins, vegetables, fruits and drinking lots of water.
Supplementing iron and calcium with dark green leafy vegetables, lean meat, seafood, eggs, milk and dairy products, etc
Limiting consumption of foods high in fat, sugar, and salt.
Supplementing folic acid 400mcg/day, iron and calcium tablets.
NUTRITION PYRAMID FOR PREGNANT WOMEN
Average intake per person per day.
For pregnant and breastfeeding mother (valid period 2016 – 2020)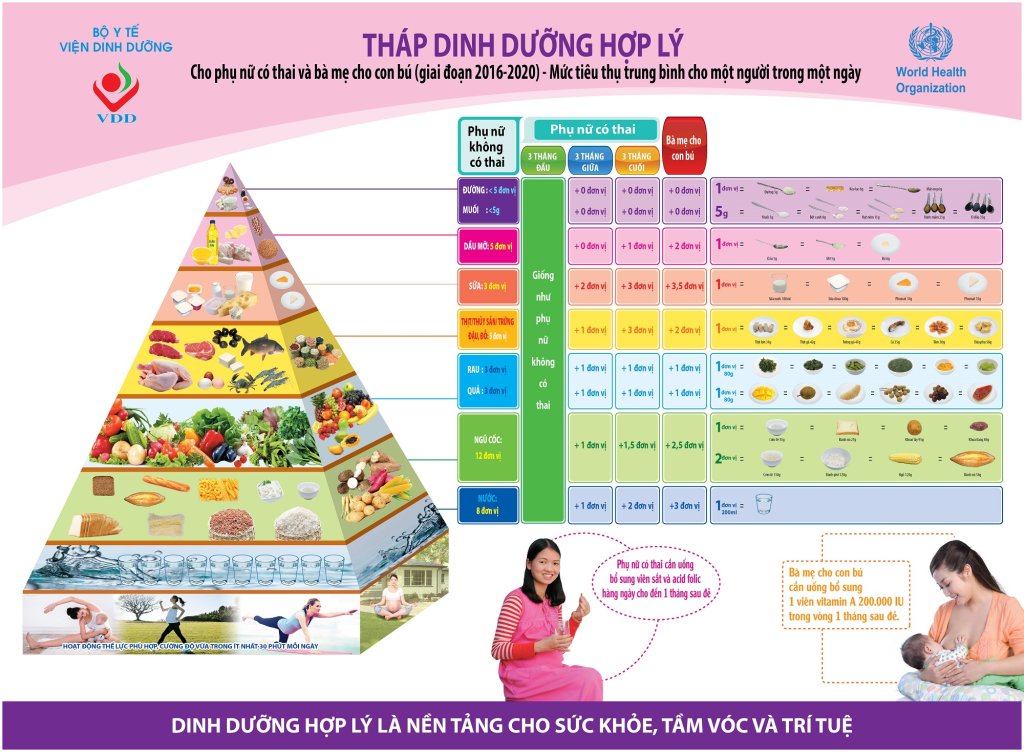 Pregnant women need to take iron and folic acid supplements daily within 1 month after giving birth.
Breastfeeding women need to supplement with 200.00 IU of vitamin A every day within 1 month after giving birth.
Important nutrients during pregnancy
| | | |
| --- | --- | --- |
| Nutrients | Effects of this nutrient | Supplied from |
| Folate 600 mcg | Help form the neural tube, which will become your baby's spinal cord. Help reduce the risk of neural tube defects, spina bifida. | Citrus fruits; dark green leafy vegetables and fortified grain products such as rye and tortillas, flour, pasta, rice, instant cereals |
| A 770mcg | Form healthy skin and enhance vision. | Carrots, sweet potatoes, dark or yellow vegetables. |
| B | Help the body release energy from the food you eat every day | Lean meats (pork, beef, poultry) and fortified grain products like rye and tortillas. |
| C 85mg | Help heal wounds, develop teeth, bones and boost metabolism. | Vegetables and fruits such as broccoli, peppers, chili, kale, cabbage, cauliflower, lemons, pineapples, strawberries, oranges, tangerines… |
| Fe 27mg | Carry oxygen to the tissue cells of the brain. Iron deficiency can cause anemia. | Liver, red meat (beef, lamb,…) eggs, poultry, vegetables (spinach, broccoli, mustard leaves, dried fruit),… |
| Ca 1000mg | Help the body regulate fluids, help in the formation of bones and teeth of the baby. If your diet does not contain plenty of calcium, your body will use calcium from your bones to meet your increased needs. | Dairy foods (milk, cheese, yogurt); soybeans (milk, tofu), orange juice, green leafy vegetables (broccoli, mustard leaves…), some fishes (salmon, sardines, etc.). |
| Colin 450mg | Help form the brain and spinal cord. | Eggs, Meat, Oatmeal, Lettuce, Soy and Wheat Germ |
| I-ot 220mcg | Help produce thyroid hormones. If a pregnant woman is severely deficient in iodized salt, the infant may have mental retardation, growth problems, and speech and hearing problems. | Iodized salt, dairy foods (milk, cheese, yogurt), algae, clams, shellfish, fish; meat, eggs. To ensure adequate iodine intake, pregnant women should consult a doctor. According to WIC recommendations, the intake is 150mcg |
WEIGHT GAIN GOALS DURING PREGNANCY
Recommended weight gain is based on pre-pregnancy BMI:
| | | |
| --- | --- | --- |
| Pre-pregnancy BMI | Weight gain goal for singleton pregnancy | Weight gain goal for multiple pregnancy |
| Under 18,5 | 13kg- 18kg | No specific recommendation |
| From 18,5-24,9 | 11kg – 16kg | 17kg – 20kg |
| From 24,9-29,9 | 7kg – 11kg | 14kg – 23kg |
| More than 30 | 5kg – 9kg | 11kg – 18kg |
Weight gain in the first trimester (first quarter) : 1 kg.
Weight gain in the second trimester (second quarter) : 3-5 kg.
Weight gain in the third trimester (third quarter) : 5-8 kg.
Things to keep in mind during IUI/IVF-based pregnancy
Do not have motionless bed rest, live and walk normally instead.
Avoid working, exercising vigorously.
Do gentle exercise such as: walking, swimming, yoga…
Do not test for β-hCG too early and limit testing multiple times. Only test for β-hCG after IUI and 14 days after embryo transfer (if 2nd-3rd day embryo transfer) and 12 days after embryo transfer (if 5th day embryo transfer). Only re-test β-hCG as prescribed by your doctor.
Depending on each treatment regimen, patients can use some hormonal drugs such as Progesteron: Utrogestan, Cyclogest, Crinone, Duphaston.. and Estrogen: Valiera, Progynova, Oestrogel, etc. after IUI, IVF in the first trimester to support for luteal phase…
Use medication as prescribed by your doctor. Absolutely do not arbitrarily change the dose, route of administration, stop the drug or use other drugs without the consent of the treating doctor.
Little vaginal bleeding, pink or brown discharge, stomach tightening in the lower abdomen or ultrasound-based little fluid in the uterus, etc are common experience by pregnant women in the first trimester, you do not worry, continue taking prescription medications and having regular check-ups as prescribed by your doctor.
Do not use a pregnancy test trip because it can give false negative or false positive results.
Notes: Visit hospital immediately in the following cases: severe abdominal pain, heavy bright red vaginal bleeding, or when there are any other unusual symptoms.